Today I'm posting some pictures of my most recent project. I just finished it last night actually! The weather here was AWESOME yesterday. It gave me some motivation to go outside and paint some projects I had sitting around.
The one I'm featuring in this post is a recent antique mall find. I had been looking for something to hang in our kitchen to hold mail and keys. When I saw this I knew it was perfect for what I needed in terms of practicality but as far as looks go it left a lot to be desired.
Here is what it looked like when I bought it:
I wasn't too sure what color I wanted to paint it but when my husband said
"can we paint it a color please??" I knew exactly what color I'd paint it. Especially since the 2 colors I was considering were cream or robin's egg blue. He isn't a huge fan of all the neutrals: creams, grey-greens and such that I tend to go for. So compromise was the name of the game and I LOVE the way it turned out. Thanks honey! :)
I painted the whole thing robin's egg blue. It's kind of hard to see in this picture because it was evening and the lighting was pretty terrible but you get the idea.
I used my template to trace my oval and some other little fancies onto the letter holder. I don't have a picture of it but I created a template using a punch I had for the scallop edge. For the numbers & "Mail" I just chose a font that I liked on the computer and then used tracing paper to trace them on. Then I very carefully hand painted everything. This was the longest, but most fun part of the process!
So now that it's all perfectly painted and pretty looking it's time to mess it up! :) Ok, I lied - this might be the most fun part. I just took one of those sanding spongy things (you know what I mean right?) and sanded until I liked the looks of it. I tried to make sure to sand extra where a piece like this would naturally get worn over time.
After sanding I took some brown glaze and wiped it on & off with paper towels until I was happy with it.
It takes quite a while to do all the hand painting and I know that some people would really hesitate to sand and glaze over something that took you a while to complete but I love the look of the weathering. I think that the hand painted details look even better when a little of the paint underneath shows through.
Today I'm linking to: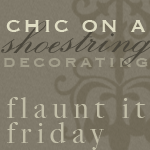 a href="http://romantichome.blogspot.com/">